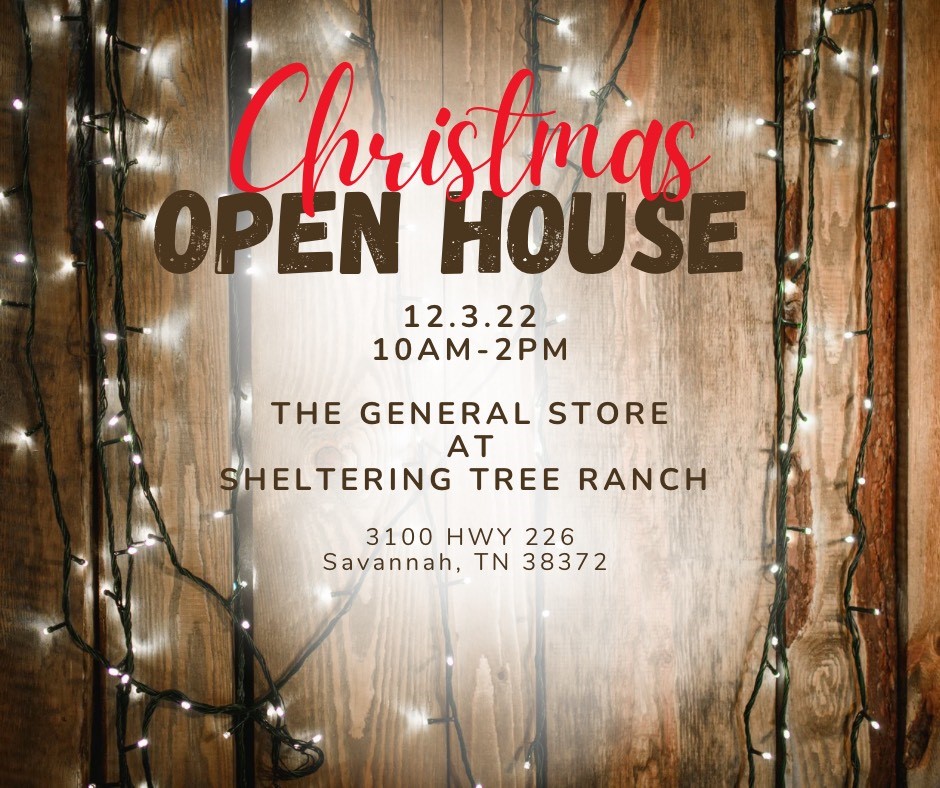 December 3rd, 2022
10AM-2PM
The General Store At Sheltering Tree Ranch
3100 HWY 226 Savannah, TN 38372
The General Store at Sheltering Tree Ranch
Welcome to the Sheltering Tree Ranch adult jobsite training facility, AKA the General Store and Chuckwagon!
You have entered a very special place where we sell delicious food and unique merchandise while also helping train adults with disabilities. Our goal is to transition the individuals who work here to paying job opportunities within the community.
We ask that you be patient with your server and help them to learn the vital skills they need to be successful in all aspects of life.
Your meal may take longer than typical to arrive due to the training aspect of our program.
Thank you for your patience and understanding!
Phone# 731-280-0280
Open from Monday- Friday 10am-2pm
Prices do not include Chips or drinks
1. Farm-Fresh Egg Salad on Marbled Rye $4.50
A creamy concoction of grated eggs, mayonnaise, sweet pickle relish and a couple other secret ingredients.
2. Chuck Wagon Cheeseburger $7.00
(add Bacon Jam for $1.00)
Our hand- crafted, seasoned hamburger patty on a grilled kaiser roll with melted cheddar cheese, out-of-this world bacon jam, garnished with green leafy lettuce, a slice of tomato and onion.
3. Classic Chicken Salad with Pecans $6.50
We start with succulent chicken breasts, diced crisp celery and pecans, mayonnaise, a-little-bit- of-this and a-little-bit-of-that, to create this Classic Chicken Salad. It is served on a grilled croissant, garnished with green leafy lettuce and tomato slices.
4. The Ranch Rueben $8.00
Thinly sliced corned beef on grilled rye with Thousand-Island dressing, melted Swiss cheese, and delicious Jake & Amos sauerkraut, which can be purchased at our Sheltering Tree Store!
5. Homemade Pimento Cheese $4.50
An all-time favorite!! Our homemade pimento cheese is served on a delicious Italian Sourdough bread and may also be purchased by the container for your enjoyment at home!!
6. "Ain't Horsin' Around!!" Grilled Cheese $4.00
(Add Bacon or Ham for $1.00)
A generous cowboy helping of melted cheddar cheese between two slices pf buttered Texas Toast (our friendly ranch hands can show you where the delicious Amish butter is located in our store)
7. Round Em' Up Wraps $6.50
Smoked turkey, ham, or grilled chicken wraps with shredded cheddar cheese and crumbled bacon, garnished with green leafy lettuce and tomatoes.
8. Rocky Top Roast Beef $7.50
Sliced seasoned steak and melted swiss cheese smothered with sauteed onions and peppers on butter Texas toast, Grilled to Perfection!!
DESSERTS
SLICE OF PIE – $2.95
SLICE OF CAKE – $3.95
BROWNIE – $1.50
SMALL COOKIE – $1.00
LARGE COOKIE – $1.75
JOES CHIPS $2.00
BBQ
BACON & CHEDDAR
JALAPENO
CLASSIC SEA SALT
SEA SALT & VINAGAR
SOUR CREAM & TOASTED
ONION
SWEET POTATO
DILL PICKLE
JOES DRINK
PLASTIC – $2.25 GLASS – $2.50
SWEET TEA
HALF & HALF TEA
GREEN TEA
UNSWEET BLACK TEA
LEMON TEA
PEACH TEA
CLASSIC LEMONADE
PINK LEMONADE
BLACK CHERRY LEMONADE
DRINKS
ORANGE CREAM – $1.75
VANILLA CREAM – $1.75
CITRUS TWIST – $1.75
ROOT BEER – $1.75
WATER – $1.00
SODA CANS – $1.00
SODA GLASS BOTTLE – $1,25
COFFEE – $1.50
About Us
Sheltering Tree Ranch is a public 501(c)(3) education, scientific, and religious organization dedicated to providing a supportive environment for children and adults with unique challenges through our autism & learning challenge education center.
Established in Savannah, TN in 2007, we provide intensive and individualized instruction programs focusing on whole-child and adult development. We are also able to provide engaging outdoor activities and host awareness raising events on the ranch grounds with the help of our local community. Our goal is to help each person achieve their God-given potential with a strong support network of families, staff, and the greater community.