Horse Camp Cancelation Policy
We love hosting horse camp here at Sheltering Tree Ranch! Due to the majority of our activities being held outside there are a few reasons that may warrant the cancelation of camp such as rain, high heat, or bitter cold. With both participants and our beloved horses in mind, listed below is our camp cancelation policy:
Camp cancelation notice should be made 24 hours prior to camp start time
Camp will be canceled if chance of rain is more than 50%
Camp will be canceled if the temperature/ heat index is above 93 degrees F or below 50 degrees F
Camp can be canceled due to circumstances such as injured or sick horses/ camp leaders.
If camp is canceled, participants on attending list will be given first choice of rain date camps or option to attend a private one hour lesson.
Thank you all for your continued support of our horse program and we look forward to hosting future camps!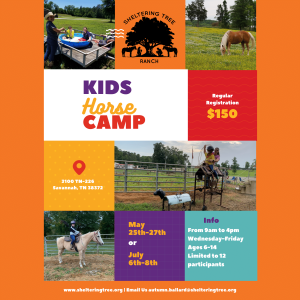 Kids Horse Camp
When: May 25th-27th or July 6th-8th
Where: 3100 TN-226 Savannah
When: 9AM-4PM Wednesday-Friday
Who: Ages 6-14, Limited to 12 participants
Cost: Registration is $150
Little Buckaroos Horse Camp
When: June 10th
Where: 3100 TN-226 Savannah
Time: 10-11AM
Who: Ages 3-5, Limited to 6 participants
Cost: Registration is $60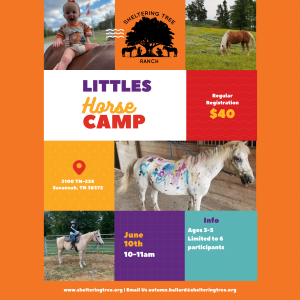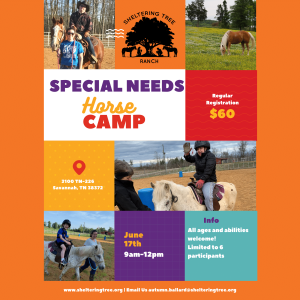 Special Needs Horse Camp
When: June 17th
Where: 3100 TN-226 Savannah
Time: 9AM-12PM
Who: All ages and abilities welcome! Limited to 6 participants
Cost: Registration is $40
Equine Therapy
Horseback riding is more than just a fun hobby! Equine assisted therapy is the practice of using horseback riding as a method of therapy targeting a comprehensive range of specific skills and behaviors. Therapeutic riding positively impacts the cognitive, emotional, social, and physical wellbeing of our students with special needs. This is an excellent activity that allows students with various disabilities and delays to enjoy the outdoors while improving balance, flexibility, and muscle strength. Because riding a horse rhythmically simulates the human gait, riders with certain limitations can benefit greatly from regular sessions. Each horse is highly trained to cater to specific needs and abilities, so that we can match every individual with the perfect horse.
Wondering how it works? We combine engaging activities with the pleasure of horseback riding to boost fine and gross motor skills. Our children and adults may do this by carefully removing clothespins from the horse's mane, reaching across their midline to pull a clothespin from a bag and throwing it to the opposite side, and tossing rings onto cones among other activities. Each of these games requires a complex series of steps that target balance, hand-eye coordination, environmental awareness, and other crucial skills that carry over to other areas of life on and off of a horse.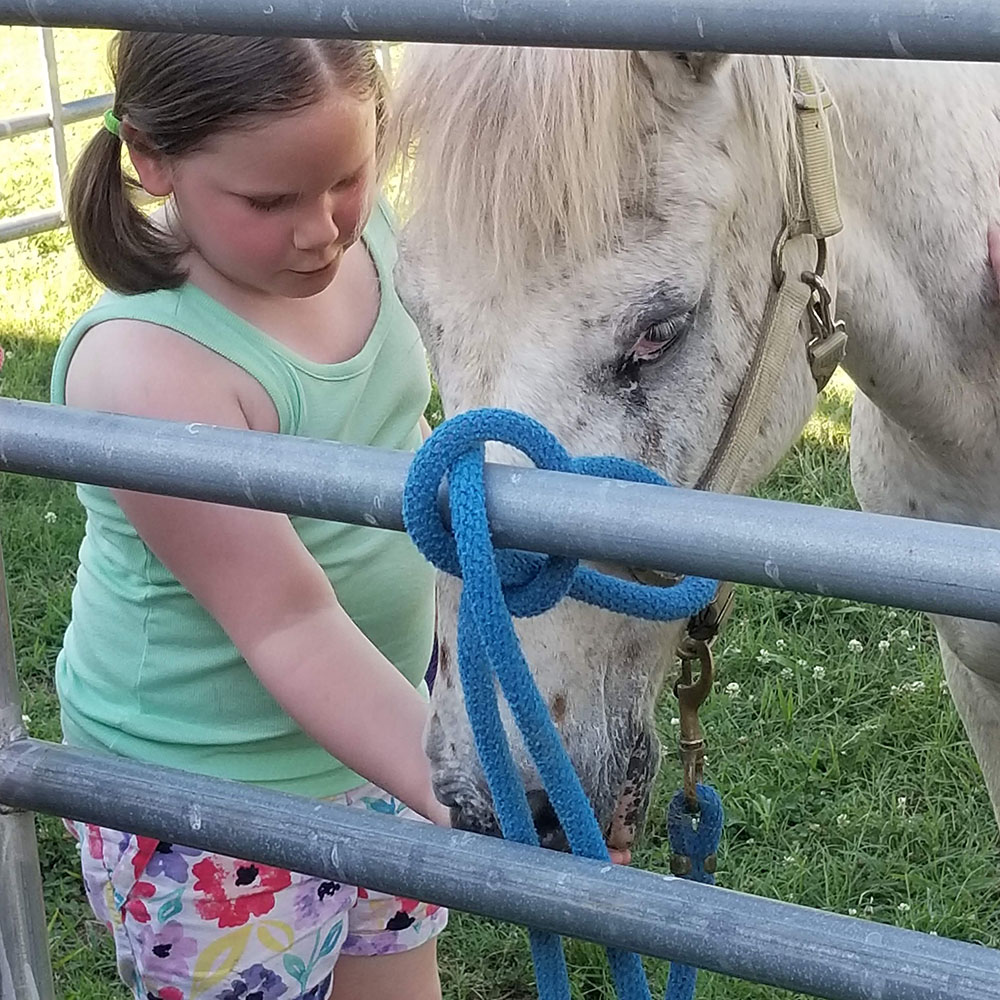 Cowboy & Cowgirl Camp
What's a ranch without cowboys and cowgirls? Join the fun in summer and fall with our Cowboy & Cowgirl Camp program, with all abilities welcome and options available for daytime and overnight stays! Cowboy & Cowgirl Camp is our overnight program while Riding Day Camp for older children and Little Buckaroo's Day Camp for younger kids allows your child to enjoy the cowboy way of life in a fun daytime setting.
Campers enjoy horse care and riding lessons, picnics, bonfires, scavenger hunts, and crafts for an exciting outdoor experience. Spots are limited for participation, so we recommend reserving your child's camp dates early! All riders must also complete and sign an application and release form beforehand.
Riding Lessons
Have you always dreamed of learning horseback riding? We provide the perfect opportunity to learn and practice proper horseback riding and horse care skills that last a lifetime! Our riding lessons are available to everyone of all abilities from 5 to 65, with or without special needs. Whether you're brand new to horses or brushing up on some rusty skills, we walk you through each step so you can ride with confidence. This also includes lessons for those looking to participate in specific horseback activities like trail riding, barrel racing, pole bending, and more.
All lessons are scheduled at the convenience of the rider and provided right here at Sheltering Tree Ranch using one of our trained horses, although lessons can be provided at another location if you have your own horse and a suitable riding area. And remember, horseback riding is more than just sitting on a horse! Our lessons include everything you need to know to care for and form a lasting relationship with your horse, from proper grooming and saddling to working your horse from the ground.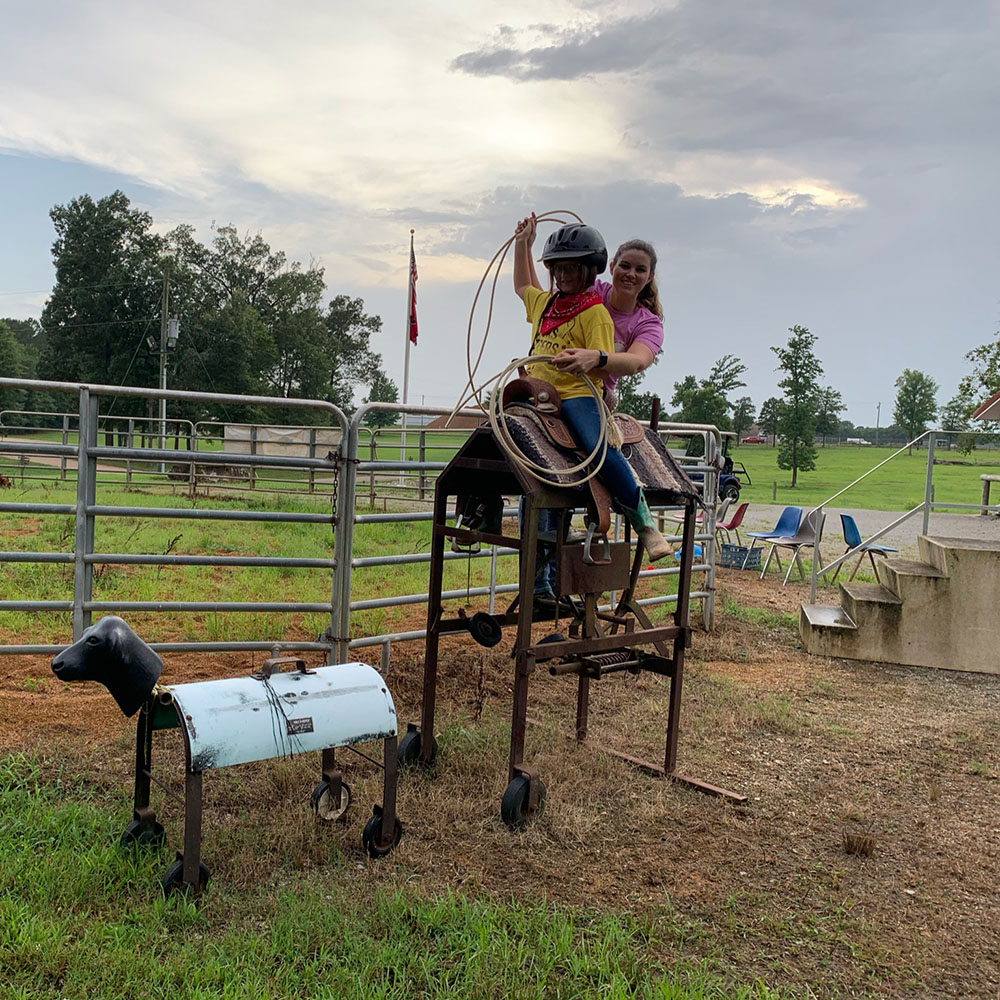 Basic horse parts and tack

How to groom and saddle a horse

Basic to intermediate riding skills
For this season, prices will be as follows:
Private 1/2 hour lesson $45

Private 1 hour lesson $50

Group lessons of 2 or more $45 each

Equine Assisted Therapy $60